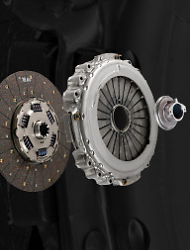 Transmission systems and equipment for trucks
For over 40 years, Valeo has delivered Commercial Vehicles, Buses & Coaches OEMs with high quality and reliable clutches.
At Valeo Transmission Systems, we aim to supply a variety of powertrain architectures with innovative technologies. We've developed commercial vehicle transmission systems for efficient and comfortable power  and torque transfer from the engine to the transmission, optimising fuel consumption.
All Valeo commercial vehcile clutches are manufactured according to Valeo's highest quality standards, making efficient and reliable products that ensure complete customer satisfaction.
Valeo's expertise in research and development has reduced clutch vibrations and noise and enhanced vehicle efficiency and driver comfort through better gear changes. These developments give truck transmission consumers a smoother and more comfortable ride while protecting the driveline.
Valeo transmission systems for commercial vehicles are reliable because they are designed to perform in the most hostile operating environments. Aftermarket truck clutch customers benefit from Valeo's Original Equipment (OE) expertise, rigour, and quality.